The Company to Trust for Garage Door Maintenance Services in Lynchburg, VA & Beyond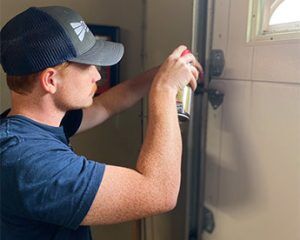 Like most elements of your home, your garage door needs regular upkeep to remain in good condition. However, proper garage door maintenance can require the help of a professional garage door company—a company like DoorTek Garage Door Service. As a family-owned business that's dedicated to raising the bar when it comes to the garage door industry, we're the company that homeowners in Lynchburg and surrounding communities in central Virginia can trust for all their garage door maintenance needs.
Our Garage Door Maintenance Services
To help ensure that your garage door will continue to function properly, we offer specialized garage door maintenance services that address a wide range of potential issues. You can turn to us for:
Garage Door Tune-Up Services
When it comes to garage door maintenance, regular tune-ups can help minimize wear and tear, keep the door running smoothly and safely, and make sure that it works the way it should. In fact, getting your garage door tuned up at least one to two times a year can reduce future garage door problems and even help you save money in the long run by preventing more costly repairs. At DoorTek, we've developed an in-depth tune- up process, during which we will:
Complete a 28-Point Checklist inspection
Perform a safety reversal test
Tighten all nuts, bolts, and screws
Check spring balance and adjust as necessary
Rewire all connections to sealed wire connections
Lubricate all hinges, rollers, springs, and bearings
Replace opener bulbs with compatible LED bulbs
Preventative Garage Door Maintenance
While regular tune-ups are essential, further maintenance is needed in some cases. That's why we can create custom preventative maintenance plans, tailoring each one to the needs of individual customers and their garage doors.
Schedule Your Garage Door Maintenance Today
Don't wait until something goes wrong with your garage door to schedule regular maintenance. Instead, ensure a longer-lasting door—and better safety while operating it—by turning to the experts at DoorTek Garage Door Service. Contact us today to schedule a consultation and discover what makes us the garage door maintenance company of choice in Lynchburg, VA, and beyond.